MAINTENANCE OF
AIR-CONDITIONING SYSTEMS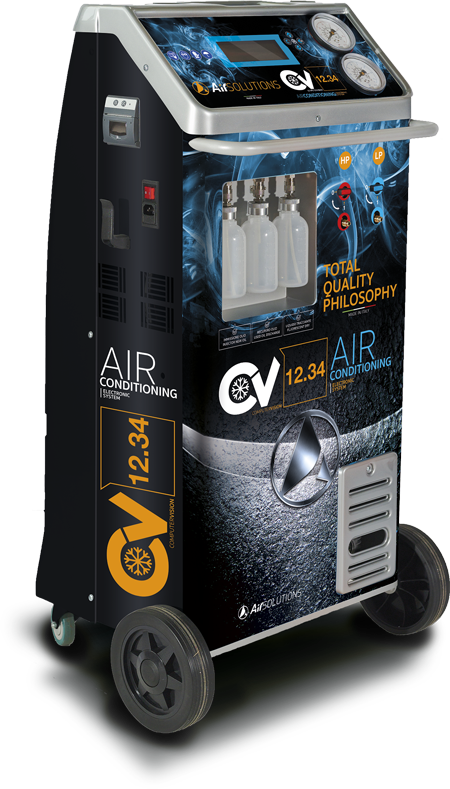 AIR CONDITIONING ELECTRONIC SYSTEM
Fully automatic station for recovery, recycling, recharging of air conditioners for gas r1234yf. The machine is managed by an electronic card of innovative design that guarantees a correct use without the possibility of error by the user paying particular attention to safety and precision. The display has been made in large format and with easily readable characters to avoid visibility problems related to low light or direct sunlight. The display is always clearly visible in all circumstances. The machine is also equipped with a database for model cars preloaded with over 600 models and easily upgradeable through a serial port. The station can also be configured in different versions according to the particular needs of each user, it is in fact possible to mount tank and pump with more or less large capacity, providing it with auxiliary output for recovery of different refrigerants, Use oil inlet cartridges and vacuum tracer and nitrogen for pressure testing.
Functional characteristics
Recovery


> Automatic operation

Drain exhaust oil


> Car/truck database with gas quantity, quantity and compressor oil type.

Vacuum

Vacuum test

New oil injection


> Automatic gas recovery from pipeline

Tracer liquid injection


> Compensation in recharging the amount of gas contained in the pipes

Gas reintegration


> Automatic discharge of non-condensible gases

System washing


> Automatic fault reporting and maintenance
| TECHNICAL CHARACTERISTICS | |
| --- | --- |
| Database (models) | 600 |
| Compressor (cc) | 12 |
| Vacuum pump (l/min) | 75 |
| Heated gas tank (kg) | 15 |
| High efficiency dehydrator filters | 1 |
| Electronic scale (resolution) | +/- 10 gr. |
| Electronic board with display | SDM |
| Ventilated condenser | – |
| Voltage (V-hz) | 220-50 |
| Recovery speed (gr/min) | 500 |
| Dimensions (length/depth/height) | 620 x 470 x 1150 |
| Weight (kg) | 73 |
| Packaging dimensions (length/depth/height) | 620 x 710 x 1300 |
| Packaging weight (kg) | 83 |
Tank of 20 kg
Tank of 30 kg
Vacuum pump l/min 150
Nitrogen case kit
Nitrogen replacement cylinder l.100
Auxiliary output for different refrigerant recovery
Vacuum oil inlet cartridge
Vacuum tracer input cartridge
System washing kit
A TEAM OF PROFESSIONALS AT YOUR SERVICE
For any information or assistance on one of our products
you can contact us immediately, a team of professionals
will be at your disposal.